BOOK STACKS
To create these book stacks I went to the Guelph library and began looking through the shelves for any titles that I thought had potential for my stacks. I ended up deciding on the books below and captured these photos in different locations to help accentuate my created sentences. This first stack (The Aesthetic Body) suggests a concept or image of a beautiful and or artistic form that exists in a distant, unreachable place, free from external constraints or limitations. The second stack (Be Very Afraid) suggests that aging is a significant aspect of life that can evoke various emotions and experiences, including both fear and growth. It invites the reader to reflect on their perceptions of aging and its impact on identity and existence. The last stack (Shameful Behaviours)suggests a range of ideas or emotions related to personal relationships, experiences, or situations, such as a fight that had occurred leaving there to be an incident where the couples had disputes and ended up breaking up.
1. The Aesthetic Body
2. Be Very Afraid
3. Shameful Behaviours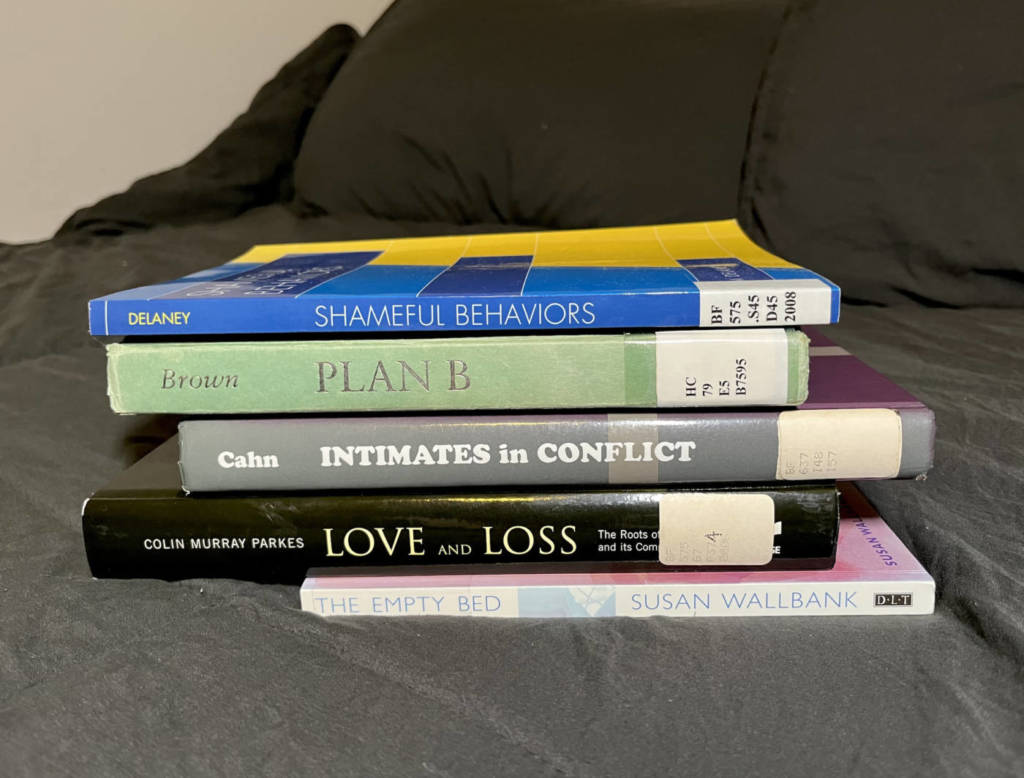 ARTIST RESEARCH
Rebecca Belmore
Belmore's known for her powerful and thought-provoking work that often addresses issues related to Indigenous rights, identity, colonialism, and social justice. I was drawn to Belmore's performance art, as her own physical body is present in a majority of her peices as a means of expression, enabling her to explore the self and community boundaries between her own ideas and those of the viewer. She incorporates photography and video into her work to document her performance and create visual narratives that complement her themes. Additionally, Belmore creates sculptures and installations that often incorporate found objects and materials with historical and cultural significance. This aspect immediately seized my attention, lending greater strength to her artwork. She frequently employs symbols and metaphors in her work to convey complex ideas and emotions, allowing viewers to interpret the meaning on multiple levels.
Overall, Rebecca Belmore's art is characterized by its multi-faceted approach, blending various mediums and strategies to create works that are not only aesthetically engaging but also deeply meaningful and thought-provoking in their content and messages, serving as a platform for dialogue and reflection on important societal issues.
Fountain (2005)
In "Fountain", Belmore repeatedly carries heavy buckets of ocean water, symbolizing the enduring Indigenous struggle against colonization, with water representing the journey's challenges and witnessing the transformation from Indigenous beauty to oppression. The bucket itself symbolizes the weight of colonization's burdens on Indigenous people, mirroring their centuries-long oppression. A distant fire unites land, water, fire, and air's elemental forces, channeled through her body. Fire, crucial to Indigenous life for ceremonies and sustenance, also mirrors its destructive capacity, akin to the devastation of Indigenous culture during colonization. Belmore emerges from the water, walks toward the camera, and throws the water, which turns blood-red, symbolizing the connection between water and humanity. The act shifts the burden of Indigenous history's bloodshed cycles back to its European source, illustrating how purity turned to violence due to colonialism. Red, signifying pain, represents the blood spilled in the abuse of Indigenous people, emphasizing the ongoing impact of brutality and colonization. Belmore's work highlights the tragic repetition of such acts between water and blood.
Biinjiya'iing Onji (2017)
Rebecca Belmore has created a memorial to transience using locally sourced materials. She has painstakingly carved a tent, which is increasingly becoming a long-term dwelling for refugees and migrants, out of marble. This sculpture serves as a testament to the enduring state of crisis and the makeshift havens it compels. The tent's design also draws inspiration from other traditional shelters, notably the wigwam, a significant part of Belmore's Indigenous heritage. Wigwams, traditionally constructed with young tree branches and covered in birch bark, showcase a resourceful approach to building with available materials, allowing nomadic communities to establish homes wherever needed.
Rebecca Belmore responds to nature, creatures, and environmental conditions in her work by often incorporating natural elements, materials, and symbols that hold cultural significance, particularly as they relate to Indigenous perspectives. Her response is deeply informed by her Anishinaabe heritage and her commitment to addressing pressing issues. Belmore conducts fact-based research by delving into Indigenous histories, traditional knowledge, and contemporary challenges. She collaborates with Indigenous communities to ensure her work is authentic and representative. Her work is motivated by ideas of Indigenous sovereignty, resilience, and cultural survival. She values the importance of giving voice to Indigenous experiences and challenging the historical and ongoing injustices faced by Indigenous peoples. These ideas resonate in her final works through various mediums such as performance art, sculpture, and installation. Many of Belmore's works, such as "Fountain" and "Biinjiya'iing Onji" are intended to challenge the status quo and raise awareness about social and political issues, Indigenous rights, identity, and the interconnectedness of nature and culture.
ARBORETUM VIDEO PROJECT
RESEARCH – BIRD CALLS
1. Chickadee
2. Eastern Screech Owl
3. Loon
4. Pileated Woodpecker
IDEAS
Idea 1: Hanging from a Tree Until you Fall
"hanging from a tree until you fall" serves as a thought-provoking symbol that unites environmental concerns with the human experience. It underscores the importance of perseverance, resilience, and responsible stewardship of our natural world while acknowledging the inevitability of occasional setbacks in our journey toward a sustainable future.
Idea 2: Hide and Seek
Hide and seek in the forest is more than just a childhood game; it's a transformative encounter that binds individuals to the natural world. Through sensory immersion, physical interaction, and environmental awareness, participants learn not only about the forest but also about themselves. This connection between body and nature cultivated through play endures, fostering a lifelong reverence for the natural world and a desire to preserve its beauty and vitality.
Idea 3: Imitating the Sounds we Hear in Nature (FINAL IDEA)
Embracing the harmonious symphony of nature, our project focuses on the art of imitating the diverse sounds we encounter outside. This endeavor offers a unique opportunity to compile an auditory journey, seamlessly weaving together recordings from the serene landscapes of the arboretum and our own attempts at replicating these natural sounds. Here, we immerse ourselves in the richness of the environment, capturing the chirping of birds, the rustling of leaves, the distant echoes of wildlife and more. It's an exploration that celebrates the interconnectedness of humans and nature and invites listeners to experience the beauty of the outdoors in a novel and creative way.