Fluxus
'Fluxus' is the name of a transatlantic art movement that first came to prominence in the early 1960s. Its name which derives from the Latin word for 'flux' or 'flow' was coined by the artist George Maciunas in 1961. The many artists linked to the movement sought to blur the divisions between art forms and erode the boundary between art and life.1 Initially recognised for its street and stage concerts, which combined elements of visual art, theatre and musical performance, the movement later gained attention for its multiples, with which it hoped to democratise the art market.
http://www.publiccollectors.org/Steven%20Leiber%20photos%20web/Steve%20Leiber%20fluxus%20web/StevenLeiber_Fluxus_SMS.htm
WHAT ARE MULTIPLES?
As the name itself suggests, 'multiples' are artworks of which many copies are produced. Each copy is typically identical, with none considered the original. Romanian-born Swiss artist Daniel Spoerri is credited with introducing the term to the art world in 1959, when he began a publishing initiative called Edition MAT (Multiplication d'Art Transformable).1 The purpose of this venture was to produce small, three-dimensional artworks in editions and sell these at lower prices than unique works.2 In this way, art would be made available to a larger audience and thus be rendered more accessible. While prints, books and sculptures have been replicated for centuries, Spoerri helped expand the horizons of editioned art to encompass modern art forms, such as sculptures using found or 'readymade' objects, and kinetic art, in which Edition MAT specialised. In doing so, he took a cue from the French artist Marcel Duchamp, who between 1935 and 1941 had produced small-scale copies of his own readymade sculptures and other works, issuing them together in a box entitled Boîte-en-valise.
Spoerri's embrace of multiples was connected with a democratic impulse that would resonate throughout the 1960s. As the decade progressed, the art world would expand considerably, and so too would the market for multiples. By the end of the 1960s, young gallerists specialising in editioned works, along with dedicated art fairs, large-scale public exhibitions, and displays in popular venues like department stores had helped place multiples in the hands of a new and larger audience for art.3
A key facilitator of these developments was the Fluxus movement, which emerged in the early sixties and with which Spoerri was affiliated. Multiples played a central role in Fluxus, and were the focus of the publishing activities of one of the movement's founding members, Lithuanian-born American artist George Maciunas. In 1963, as part of his initiative to break down the elitism of the art market, Maciunas opened his 'Fluxshop' in downtown New York. From this base, he produced and sold so-called 'Flux Boxes' and 'Flux-Kits.' Typically no larger than a briefcase, these compact containers housed a wider variety of multiples, created by many different artists.4 In the context of Fluxus multiples assumed a range of new, and often humorous guises, including scores for events and performances, interactive games, small booklets and other forms of printed matter.
As an affiliate member of Fluxus in Europe, who worked with Maciunas on several occasions, Beuys was well aware of his colleague's activities and in 1965 began producing multiples of his own. In contrast to the works that Maciunas published, which often fit snuggly in the palm of one's hand, Beuys's first multiples were larger and were often more complex to produce. In place of small sheets of printed paper or boxes containing simple, prefabricated objects, Beuys favoured work with a more sculptural character, in which found materials were combined with hand-formed elements. This latter trait also set his works apart from Fluxus multiples, as well as those of Edition MAT, which avoided suggestions of hand-production. Many of Beuys later multiples also bore signs of the artist's hand, in the form of signatures, inscriptions, and manually applied stamps. Like both Spoerri and Maciunas, Beuys had a strongly democratic vision for art, to which end he conceived his multiples as 'vehicles' for increasing art's accessibility and distributing his ideas to a wider public.5 When his work began to take an explicitly political turn in the early 1970s, multiples became an ideal means of publicising his social concerns.
Fhttp://pinakothek-beuys-multiples.de/en/what-are-multiples/
I Really Should… – 2002
Audio CD, 48+ minutes, unlimited edition
Audio recording of 1000 things I really should do…

Not Fragile – 2012
Water-jet cut, powder coated sheet steel, plexiglass, LED lights & electronics
12″ diameter x 2″
Edition of 25 + 5 AP
Co-published with Paul M Conway Editions
Photo credit: Toni Hafkenscheid

1/3No Tofu/No Yoga Mat (Zippo) – 2009
Brushed stainless steel Zippo lighter w/ laser engraving on both sides
1.5″ x 2.25″ x .75″
Edition of 25 + 5 AP
1/2God Damn (Watch) – 2018
Custom designed laser engraved watch
40 mm diameter, 20 mm onyx black leather strap
Edition of 25 + 1 APExhibition History:
2018 Olga Korper Gallery (Toronto, ON);


1/3Everything is Interesting – 2003
1.5″ diameter
Produced for the Ikon Gallery. Birmingham, UKGill Saunders & Rosie Miles: "Prints Now" London: V&A Publications, 2006 (excerpt)
As part of her 2003 exhibition at the Ikon Gallery in Birmingham, Canadian artist Kelly Mark used badges, postcards, interventions and installations to extend the reach of the work beyond the institution. Badges and postcards printed with the statement "everything is interesting" (also the title of the exhibition) were circulated around Birmingham – they were on sale at the gallery but also distributed through letter-drops and mailings. Mark saw these anonymous statements as small works of art feeding into the fabric of life in the city, circulating her message by an ephemeral low-key strategy characteristic of her focus on the minutiae of everyday life. By disseminating the idea way beyond the circles of the initiated and those who visited the gallery, the badges offered a modest epiphany to an unknown and random audience.

Kelly Mark | Exist
Kelly Mark
Exist
Toronto, Canada: Self-published, 2009
7.5″ x 12″ x 2″
Edition of 25 + 2 AP
Altered exit sign, water-jet cut powder coated aluminum w/ LED lights
Shay Donavon, Nihilist Celebration, 2019
An End
ArtistSam CotterPrice$25.00Date2017PublisherSam CotterFormatMultiplesSize5 × 1.9 × 0.7 cmGenreMoney Clip, JewelleryDescription

A money clip bearing the small inscription "I too dream of an end to capitalism" — a signal of concurrence and a reminder of complicity. – Sam Cotter

Angelina Kiriakos,
Money Isn't Love, 2019
The artist changed the text from Happy New Year to Money Isn't Love on a template for making a Chinese money envelope, given at celebrations.
I Heart Conceptual Art (wristwatch)
ArtistMichael BucklandPrice$100.00Publisherself publishedFormatMultiplesDetailsWristwatchDescription

Wristwatch with black leather band, in a roundplatic watch case, with printed paper insert in bottom. The white watch face is printed with the moniker "I (red heart) Conceptual Art."
Yinka Shonibare MBE | Kaleidoscope
Yinka Shonibare MBE
Kaleidoscope
London, UK: The Multiples Store, 2014
8 x 8 x 27 cm.
Edition of 45
"…Shonibare playfully reclaims an object from a familiar British tradition and subverts it through the use of batik patterns and by transforming the shape into that of a phallus. The opening at the head of the phallus reveals a distorted image of Sandro Botticelli's Birth of Venus. Shonibare has replaced the familiar image of the ideal female nude with a photograph of a well-endowed male, subverting the image and preforming an act of reverse objectification. This object can also be seen as a subversive take on 19th century Victoriana, and specifically the "peep show" images of women viewed through devices such as a kaleidoscope."
– The Multiples Store

George Brecht
Closed on Mondays
New York City, USA: Fluxus, 1969
10 x 12 x 1.6 cm. (sizes varied)
Edition size unknown
An opaque plastic Canal street box contains adhesive material to secure itself permanently shut (it can only be opened very slightly). A black and white image designed by George Maciunas (see his mechanical for the layout, above) is adhered to the lid in which five children gather in front of two large double doors, with two of them doodling on the ground. The title appears as part of the graffiti on the doors, "Closed on Mondays, A Fluxgame, by George Brecht."
Brecht's original prototype (above, bottom) was a wooden box held closed with a rubber band.
The idea comes from seeing signs in restaurant windows (Ferme le lundi), but functions just as well as a comment on the inaccessibility of art on Mondays (when many galleries are closed). The work also sits along other Fluxus kits which comment on their own opening and closing, such as Ken Friedman's Open and Shut Case.
"I made a box in Villenfranche – it had a rubber band inside. And then George came with this other thing using rubber cement and he had this photo made. That's more or less his recreation of the original model [which] has a little plastic sign on it with engraved white letters."
– George Brecht, 1983
Micah Lexier
Envelope Sculpture
Toronto, Canada: Nothing Else Press, 2012
15 x 20 x 0.2 cm
Edition of 50 signed and numbered
Archival pigment print on paper, a reproduced shred of comic with the onomatopoeia of title. From the collection of the singer George Michael.
The 7th Nothing Else Press edition (and Lexier's second) is a cardstock envelope printed with a set of instructions for making a sculpture using the six letterpressed, glueless envelopes enclosed. Star and Hexagon versions are available, each in an edition of fifty copies.
The works are available for $30.00 CDN each, or both for $50.00, from www.nothingelsepress.com or at the London Art Book Fair in two weeks time.
FIONA BANNER: TABLE STOPS
Edition of 100
Inquiries: http://www.fionabanner.com/vanitypress/
TABLE STOPS is a collection of seven ceramic full stops. Each full stop is taken from a different font: Klang, Slipstream, Avant Garde, Nuptial, Formata, Optical and Courier. The full stops are all enlarged to the same scale, though each is a very different size and shape.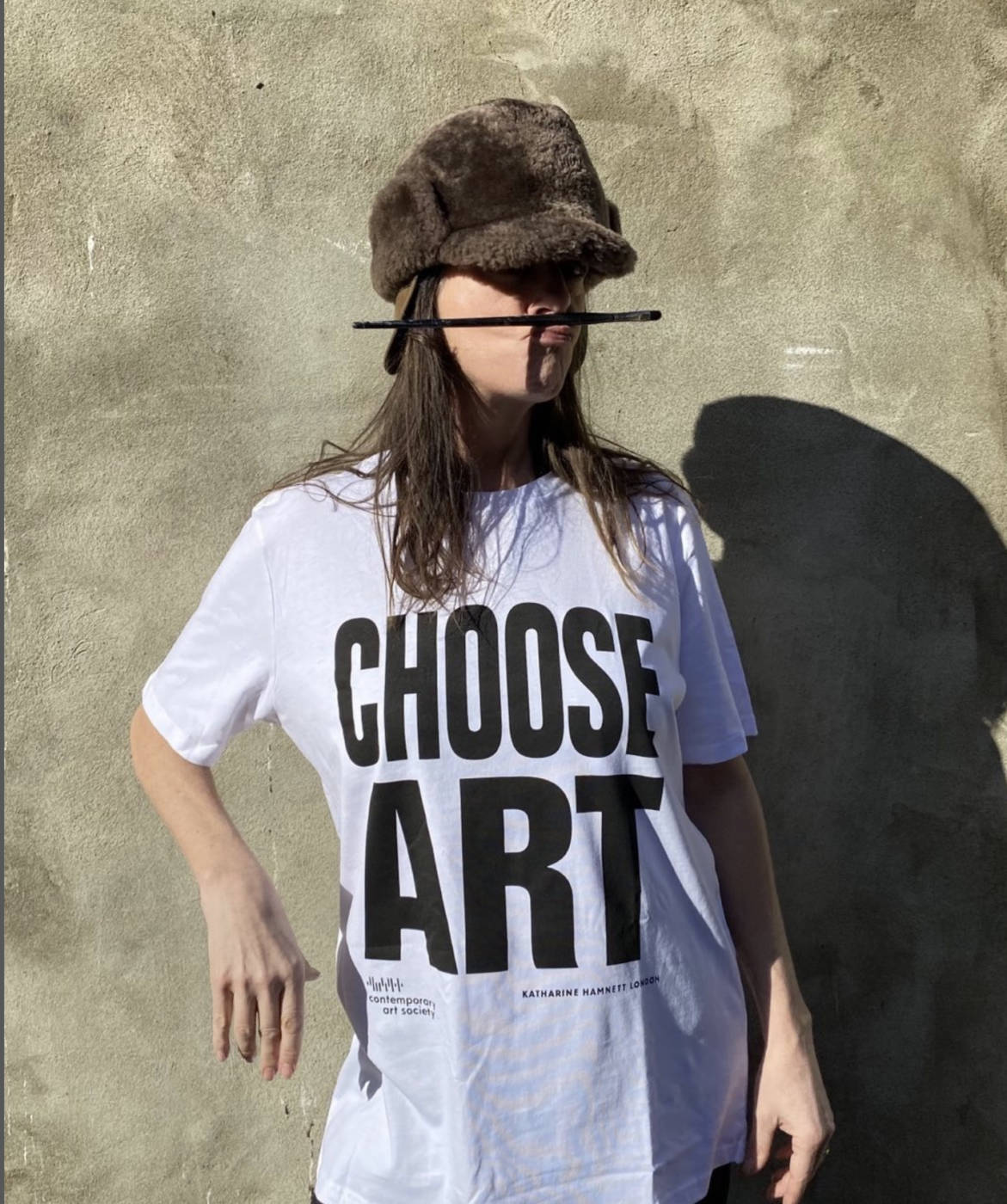 See Fiona Banner's Instagram – For examples including above: https://www.instagram.com/fionabannerakathevanitypress/
Ligorano/Reese, Fuck Snow Globe
Nora Ligorano and Marshall Reese have been collaborating since the 1980s. This best-selling multiple, from their limited edition series, showcases the designers' sense of humor and multidisciplinary work using unusual materials and industrial processes.
Shannon Gerard and her crocheted multiples!
Like my other crochet projects, Plants You Can't Kill are attractive on the surface while also speaking to our human insecurities. These pretty little cacti, aloe plants, flowering pots, ferns and other botanicals look darling on the windowsill but are particularly resonant with those of us who can't keep the real thing alive.
After dozens of failed attempts at indoor gardening, I just decided to crochet plants my own damn self.
These plants are for sale in my online shop, and in several stores across Canada and the USA. See Stockists tab for locations. See: http://www.shannongerard.org/plants-you-cant-kill-1#crochetedcacti
New Museum Store:
https://www.newmuseumstore.org/limited-editions
http://www.nothingelsepress.com/
See John Marriot's site:
http://www.johnmarriottstudio.com/
Art Mutters
ArtistJohn Marriott
Don't it feel like the truth.
1.25 inch button taking its starting point from the PR button from the Art Gallery of Ontario that boldly proclaims "Art Matters". Marriott's version reflects the agony and intellectuality that at times seems to haunt it all.
Burnable Contemporary Art Gallery
ArtistJohn Marriott
Build your own burnable contemporary art gallery with this do it yourself kit from John Marriott. Kit includes a template for a multi-story public gallery of brazen contemporary architecture along with a sheet of tinfoil to create your own free-form addition that tastefully reflects recent movements in blobitecture.
See ART METROPOLE – Artist Multiples
Make an Artist Multiple
RECOMMENDED MEDIA: Posters, post-cards, T-shirts, mugs, a set of stickers, banners, matchbooks, artist books, modified products, small sculptures or other commercially-printed or mass printed media.
Due: See schedule for details
______________________________________________________________________
Since the 1950's artists have been making accessible works in a series/edition intended for wider distribution than an expensive "original". They would undermine the idea of precious/one-of-a-kind artworks, and be related to everyday objects and operations.
They have been made as prints, small manufactured sculptures, pins, artist books, magazines, postcards, t-shirts and other commercially reproducible media.
Artist multiples are sometimes playful and mischievous – exploring new and surprising manifestations of commercial goods – for example they are personal, satiric, highly conceptual, queer, alternative to mainstream ideas etc. They can also convey activist messages intended for wide distribution.
Students will create a playful artist multiple in a form intended to be made in "multiple". You can create one or more of your multiples, or a few items in a series – and consider the ideal "edition" size when you show your work in critique. Your work should be finished like a product in a store, and this may include packaging to finish the work.
Consider artist multiples by some of the following artists:
Hiba Abdallah
Sandy Plotnikoff
Dave Dyment
Yoko Ono
David Shrigley
Kelly Mark
Adam David Brown
Roula Partheniou
Paige Gratland
Micah Lexier
Jessie Eisner
Tracey Emin
Piero Manzoni
John Baldessari
Fiona Banner
Germaine Koh
Jenny Holzer
Fluxus (various)
Students will document finished works at the studio with a backdrop/or in action for addition to the blog.
Two "commercial" style photos of your multiple must be posted on the blog with a title and short description by the end of the day on December 1, 2022 to receive a final grade.