An ongoing collection of works that speak to the historical moment – made in the past, or made today.
Maggie Groat:
Intervals project for Mercer Union: https://www.mercerunion.org/intervals-maggie-groat/
–
Lou Sheppard – Murmurations
https://www.lousheppard.com/work/murmurations?fbclid=IwAR346C-0sHpGXOHvWXHnrWqYuxgObGA95bpfwme15Ig4b6RbvguSIdMkVeU
Rafael Lozano-Hemmer: A Crack in the Hourglass, An Ongoing COVID-19 Memorial
October 29, 2021–June 26, 2022
Stephanie and Tim Ingrassia Gallery of Contemporary Art, 4th Floor
Use the Participate button to learn more and submit a photograph and dedication for your loved one via the project website.Participate Tickets
Note: This exhibition is available in four languages. View the exhibition description in Spanish, Russian, or Simplified Chinese.
How can we memorialize and visualize the extraordinary loss of life caused by COVID-19, even as it continues to rage throughout the world? Media artist Rafael Lozano-Hemmer (born Mexico City, 1967) responds with A Crack in the Hourglass, a transitory "anti-monument" for the time of the pandemic and the ways it has halted public rituals of mourning. In this participatory artwork, a modified robotic plotter deposits grains of hourglass sand onto a black surface to recreate the images of those lost due to COVID-19. After each portrait is completed, the surface tilts and the same sand is recycled into the next portrait, echoing the collective and ongoing nature of the pandemic.
Those seeking a way to mourn loved ones lost during the pandemic are invited to participate in this ongoing project. Submit a photograph of the deceased at www.acrackinthehourglass.net, accompanied by a personalized dedication. The resulting memorials will be available, via livestream and in archive form, on the project's website. In our galleries, the robotic plotter and physical representations of the memorials serve as a space to collectively mourn, reflect, and connect, and to honor victims of COVID-19 in New York City—an area with one of the highest number of pandemic-related deaths in the United States—and worldwide.
For questions about the project, email us at covid19.memorial@brooklynmuseum.org.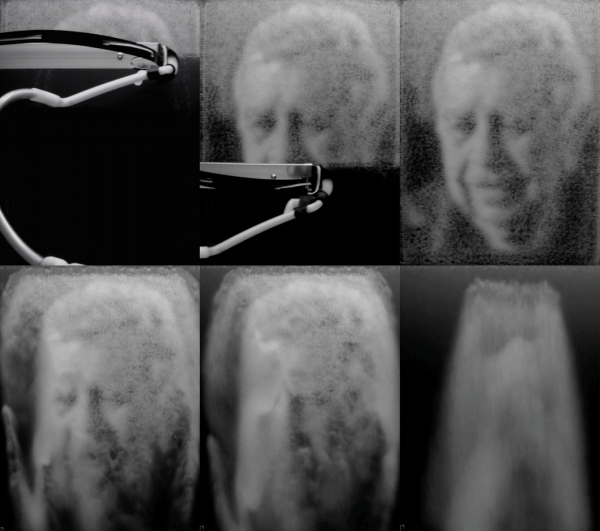 In Creative Time's most widespread public art commission to date, Jill Magid intercedes in our national economy, responding to issues of value in the throes of COVID-19 with her first major U.S. public art project, entitled Tender. Magid disseminates 120,000 2020-issued pennies, the edges of which she engraved with the appropriated phrase, "THE BODY WAS ALREADY SO FRAGILE." The text evokes both the human body and the body politic—and underscores their interconnection during the coronavirus pandemic. Via a white cash-in-transit truck, these altered coins enter our national economy through purchases at bodegas across all five boroughs of New York City. The number of pennies echoes the $1200 stimulus checks that were issued by the U.S. Treasury as part of The CARES Act, which provided financial relief to individual citizens during the coronavirus. As a voice from the public, the engraved phrase etched onto the edges serves as the antithesis to the propaganda stamped onto the coins' faces.

Magid utilizes pennies—whose newly minted copper surfaces are antimicrobial—as a dispersed monument that will spread discretely across the country, beginning in New York, to explore the contradictions between the dissemination of currency and COVID-19. With an average circulation of 40 years, this project will exist as long as the pennies are in use, and as rumor. In this way, Magid reimagines public art as not a static entity, but rather as a phenomenon that circulates freely among the population; each transaction builds social relations in networks of exchange and interconnectivity.

As the U.S. government uses metaphors of American power fighting the virus as a war waged against an "invisible enemy," the project speaks to human vulnerability and the effects of the virus on both a personal and national scale. In this time of global political and social uncertainty, during which COVID-19 denies us all intimacy and direct exchange, Tender offers an opportunity to take pause and reflect on the permeability of borders, value, and intimacy. From: https://creativetime.org/tender-jill-magid/?fbclid=IwAR261NjomRpMvOG8do2LXsu_8-Umh20J45MuVCgu0ojC_J5p35Ma8RQ5G1Q
Crowd Shyness, 2020
Crowd Shyness
In crown shyness, trees grow with distinct space between their crowns, to avoid spreading pests, to avoid damaging their own fragile tips, and to leave room for their peers. They make small individual sacrifices for collective health. These natural processes are analogous to societies making adaptations rooted in mutual care: "crowd shyness" as a form of conscious citizenship.
Guided by a vision of collective care, Germaine Koh has been working alongside the Belkin staff to workshop a comprehensive approach to public interaction. This includes communication, tools and protocols for re-opening the gallery during the COVID-19 pandemic, but also ongoing workplace procedures that emphasize teamwork and acknowledge both the essential work done by visitor services staff and the fraught character of the gallery threshold. It is a framework for the team to look widely at topics such as exhibition staging, the gallery's location on traditional Musqueam territory, and how the gallery can open itself, represent and be responsible to a diverse public.
The Belkin invited Vancouver-based artist Germaine Koh to consider new pandemic protocols facing the gallery and to develop creative approaches to addressing them. We welcome experimentation within the public realm and learning from and with others in the development of new solutions. This project involves ongoing consultation with Belkin staff and communities (curators, programmers, building operations, health and safety) to address quotidian procedures for visitors, as well as exhibition specific interventions for exhibitions. Together we will explore this opportunity for the prototyping and testing of concepts, as well as fine tuning and adaptation in further iterations.</br
~from https://belkin.ubc.ca/germaine-koh-crowd-shyness/
Orian Barki and Meriem Bennani, 2 Lizards: Episode 1, 2020
2 Lizards: Episode 1, 2020
Artforum is pleased to host this Instagram video by Orian Barki and Meriem Bennani, made while self-isolating because of COVID-19.
Beautiful moment of communion through sound waves in Brooklyn despite social distancing—the virus's protective membrane is very sensitive to soap and heat but also bass. These two lizards are lucky they work from home and can afford to stay inside. This is the first collaboration between Yani and me; we made it over the weekend to take a break from editing and animating for work. —Meriem Bennani
This is what it feels like to live
presently in a historical moment.
"2 Lizards is an artistic time capsule that fuses genre—part documentary, part fiction—using cartoon animals to represent the artists' community. The resulting absurdity and realness channel humor and sincere emotion to explore the societal fissures that formed around the pandemic, and its intersection with systemic racism. Each episode explores a specific quarantine mood: dreamlike detachment, anxiety, impassioned protest. Melodrama is notably absent. Instead we see cool emotions and "affect management." Daydreaming, scrolling, and distraction abound. In addition to physical confinement, there is an emotional confinement that manifests as out-of-sync-ness: the lizards move with a particular cadence, slightly slower than everything else. This, the videos seem to say, is what it feels like to live presently in a historical moment." From MOMA
2 Lizards joins a rich history of diaristic video art, including Gregg Bordowitz's episodic Portraits of People Living with HIV or George Kuchar's performative video diaries. Like Bordowitz's and Kuchar's footage of the mundane, 2 Lizards focuses not on the crisis as an event but on its daily effects. (It isn't until episode four, when the lizards visit a friend, a healthcare worker, that we hear stories about the coronavirus tragedies.) As an event, contagion is invisible, but the ripple effects are evident. This is reminiscent of cultural theorist Lauren Berlant's term "crisis ordinariness," whereby "crisis is not exceptional…but a process embedded in the ordinary that unfolds in stories about navigating what's overwhelming."[1]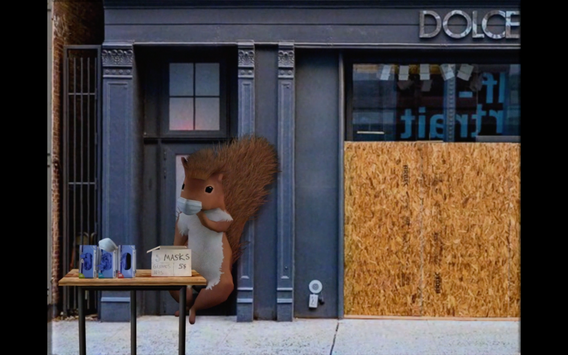 2 Lizards
This series speaks to the changing methods of image consumption that aim increasingly toward smaller, more portable screens and user-generated content that seeks to comfort through humor. Like memes, the lizards are an opiate for our precise moment of extreme social disruption. Much of the value in these videos is their format (the Instagram video), as they inextricably tie the work to the platform and its users. 2 Lizards is a feedback loop: it reflects the Internet by incorporating new modes of image technologies related to the constant stream of pictures, which are then distributed back into the world through those very feeds. During lockdown, in the context of isolation, social media became a place where many of us channeled our pent-up communal and emotional need to connect. It is where we received information about the world and began to watch a new one unfold.
Adad Hannah:
Social Distancing Portraits 2020

See the videos below on his Instagram page:
https://www.instagram.com/adadhannah/?fbclid=IwAR12WStVWq-rI2-zllAf69GNXFqfGMnTkBZ77u58F_I8kXNzj4YzuZxWkNk
VIDEO PANDEMIC PORTRAIT ASSIGNMENT:
Record a video portrait in the style of Adad Hannah – choose one subject you know, and one stranger to record. Try to invite people from different walks of life, who hold different kinds of jobs, are different ages, etc. Our collective portrait should be diverse in all kinds of ways. Consider who will be an interesting subject – with an important experience to record.
Ask your subject to be still, in the middle of something they are doing in the world (outdoors), to pose for a video portrait.
Ask them to be still for a few breaths, and then answer the question: WHAT IS PENT UP FOR YOU RIGHT NOW? WHAT IS PENT UP?
Ask them to answer the question in one word, or a few sentences – and then to be still again for a few breaths afterward.
Look closely at Adad Hannah's videos – notice the framing, the vertical proportions, the way he poses subjects inside the frame. Follow all the health restrictions and do not go too close to anyone. Use a tripod or a stabilizing device to have a clean, steady shot. Have your subject stand in the shade, or somewhere the light is not too contrasting. You may need to record your subject a few times, or ask a few people – in order to get your two short videos. Each clip should be around 20 seconds.
In class we will use your clips to practice video editing, and compile our trimmed, polished clips into a class collaboration – a VIDEO PANDEMIC PORTRAIT we are making together.