Week 1: Book Stacks
Notes
Investigating Artists' Works
Investigating the works of Katchadourian, Dyment, and Park allowed me to understand how diverse the physical form of a book can be as a conduit of meaning. Each artist intercepts the original intention of the novel as an individual container of writings and knowledge and draws meaning from external aesthetic qualities, titles, and ideas of ownership. Nina Katchadourian focuses on the personal context of book collections and how they reflect upon their owners and the spaces in which they exist. They are archival in nature, utilizing an accumulated vault of knowledge to construct a new meaning in the present. She begins by documenting each book in the library through a series of lists from which she begins to sort and curate books that connect to one another. Rather than being taken in their original context, the books are physically rearranged in stacks and reinterpreted by drawing connections between titles and their owners. Her piece Dyslexia from her Reference series exemplifies these strategies, using the titles printed on the book spines to speak to dyslexia as an experience of reading, perceiving, and rearrangement. The owner of the collection from which this piece was created is a former eye surgeon and photographer, someone who is clearly deeply familiar with experiences of looking.
Dave Dyment takes a slightly different approach, drawing inspiration from popular culture, multiples, artists books, and editions. His work with books involves a sense of chronology and time, using titles and linear arrangement to signal an unfolding or evolution. Ryan Park's approach on the other hand, plays more with aesthetic quality over text driven meaning. He stacks books open and face up, allowing only slivers of the book cover colours to peek through and create a gradient. His works elicit a playful and joyful experimentation that is concerned with visual pleasure. The decision to open the book to create a new curving form reflects Katchadourians idea of treating the book as a sculptural item or readymade.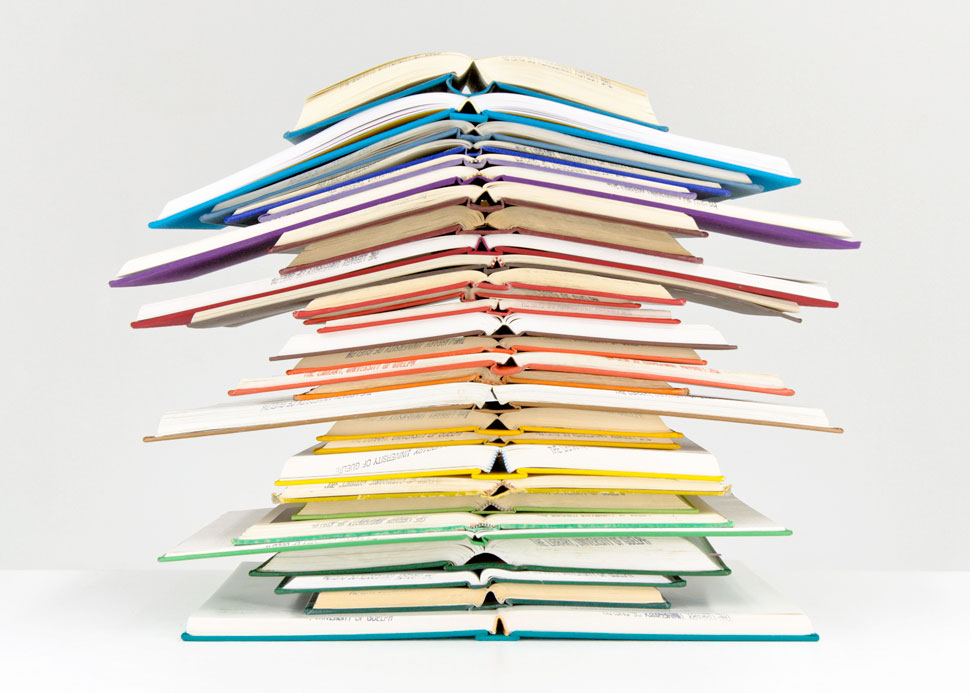 Process
Going into this project I had no doubt in my mind that I would be able to put together meaningful compositions that reflect the connection between myself and my roommates. I am fortunate enough to have a roommate who works at the Bookshelf, and consequently, a stream of books is constantly being welcomed into our home. We each have an individual collection as well as a shared collection, however, even those that are in personal libraries end up circulating between us. Very quickly I noticed a pattern of categorization: self help, philosophy, poetry, fiction and spirituality. I think this speaks to the intersection of our experiences and interests as friends (though I feel that word downplays the connection we share) and how we are presently navigating our lives.
The process of creating my stacks very closely replicated the process of Nina Katchadourian in that I developed a list of all the titles which were then transferred individually onto cue cards. From the spread I was able to freely arrange as many times as necessary, snapping photos of arrangements that had potential (pictured are some that I did not choose for my final composition and one that made the cut).
This is a technique that I had previously used in an exercise that involved creating haikus by using comic books as source material. It was extremely effective and extremely enjoyable. It opens up endless possibilities and interactions with the material. In the end, three compositions resonated the most, in that they unconsciously arose from feelings that I, and many others are experiencing at this time of great change for our world. These are feelings of loneliness, laziness, and a deep craving for human touch. I also chose to decisively break up lines to indicate pauses in the flow of reading, as well as support clarity and emphasis on the titles themselves. This also served as a symbol for the elapse of time in the third piece "Human Touch", as a long stack of blank pages were placed after the words "flash forward". I found that in some of the more lengthy stacks of the artists I explored, the closeness of the titles and the varying colors and fonts sometimes affected the readability. I find the spacing provides a sense of calm and an even greater impact on how the works are experienced.
Final Stacks