Artist Multiples
Janice Kerbel
Janice Kerbel is a British Artist born in 1969. She works with a range of material that including print, type, audio recording as well as the recent playing of light . Her work includes existing languages from a wide range of disciplines and re-imaging them. Her practice tries to imagine and develop new forms, which can be seen through many of her art pieces that including on her silkscreen prints on paper.
Janice Kerbel, Score, 'Fall'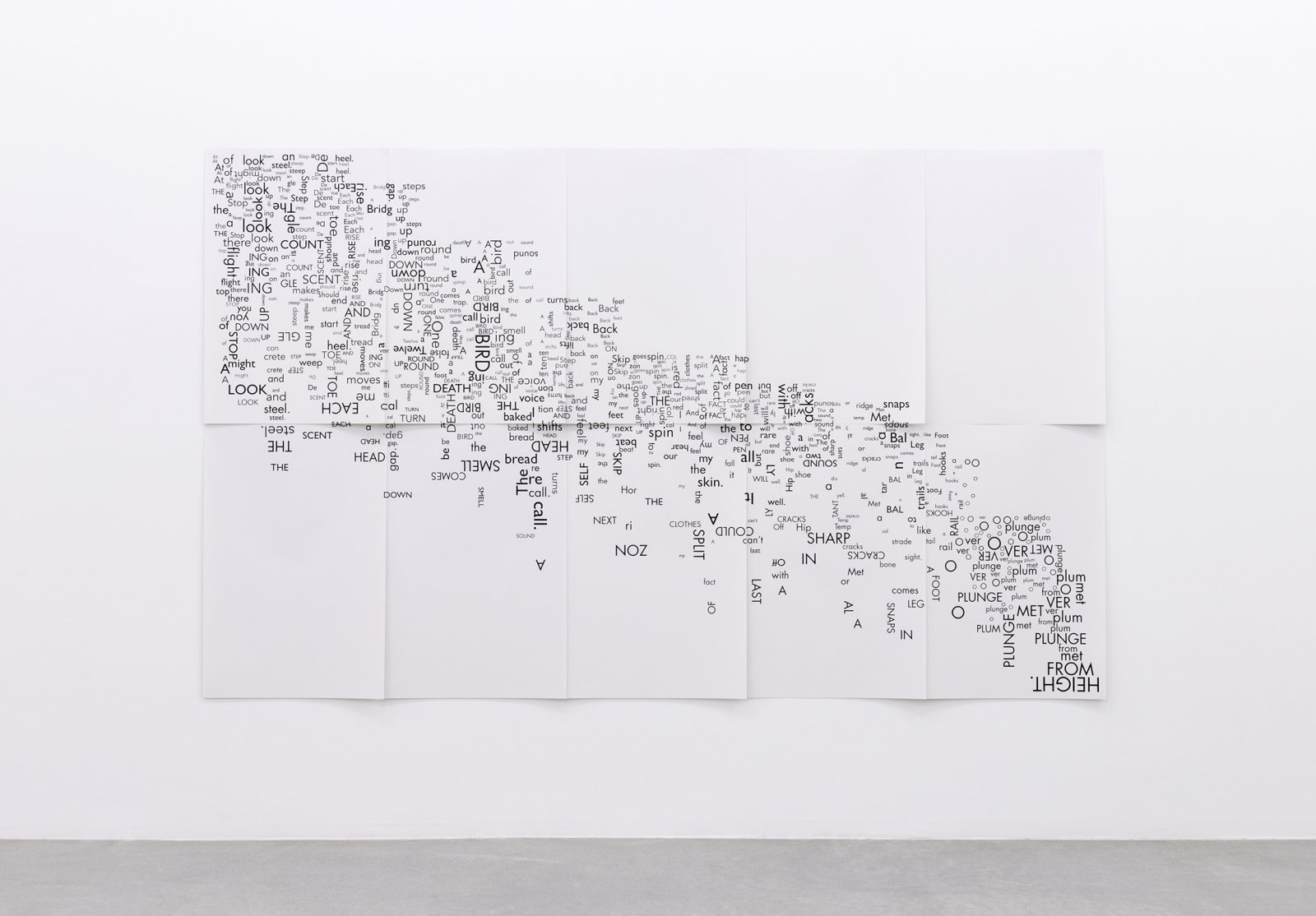 Janice Kerbel, Score, 'Crash' 
Why I choose these pieces …
I choose both silkscreen pieces that having Janice's practice in developing new forms. The first peice I choose was "Score, 'Fall', 2015, 10 silkscreen prints on paper" where she split up her work into different pieces, but still continuing onto the next pages forming a motion or even showing a wave of words giving the piece movement implying a "fall" like its very name. The piece moves heavily from the top being more condensed then moves more openly when at the bottom where the words are more scattered. Having such words like "HEAD", "PLUNGE", MET", "SHARP", "snaps", "BIRD" and other suffixes like "ing" almost adding to some words creating new ones like a scrabble game, such as "BIRD" and "ing" being close to one another making a new word, "Bing". In a conceptual way, as the concept is more important than the execution, where Kerbel uses words and motion to convey this image of new form of a fall. The second piece I choose also shared the same concept of movement and also included letters, similar to the other piece I've chosen. Having the name "Crash" where her letters are formed into a visual image. The letters build up then crash by the end. This act of a crash shows her theme of "new forms" and the act of movement.
I choose these 2 pieces because It looks like inking or just printmaking that I thought was cool and the chaos of letters in an organized manner just jumped out to me as everything is so clean and well put together and that each individual letter can be a all put together as a multiple. These objects work in the world because we, as humans, are more advanced and now type more rather than hand write our work, so her piece just fits into today's society era of technology. The artist use of language is different because she doesn't form any sentences, rather she just makes it into a movement through words and letters like suffixes. The uses of font is vast by the different sized fonts in both pieces as well as the uses of caps where she makes some words in all caps. This usage of font activates the texts by creating a use of space in her piece that eventually lead to her meaning on movement and "new" form.
How the Art is made …
janice kerbel's works
https://catrionajeffries.com/artists/janice-kerbel/works